Solera Brewery is turning 5, and we want to party with you all! Thank you all for the support, we could not be here without you.
Come celebrate our special day with us, SAT APRIL15th, 2017. Noon to 10pm!

We will be doing our FIRST EVER bottle release, an oak barrel aged, apricot sour.  Bottles will be limited, so be sure to show up early if you want a bottle (or three!) for yourself

 We will have special beer tastings throughout the day, poured by special guest bartenders.
Minors will be permitted until 7pm!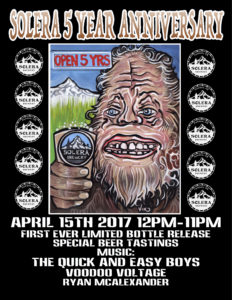 For the first time ever, Solera welcomes:
THE QUICK AND EASY BOYS
The Quick & Easy Boys are a power-trio out of Portland, Oregon who creates their own blend of rock and roll. Imagine the Minutemen, the Police, and Band of Gypsies rolled into one.
Formed in 2005, The Quick & Easy Boys quickly made a name for themselves in Eugene, Oregon before relocating to Portland and becoming a renown nationally touring act. Their shows are an interactive party with electrifying stage antics and profound musical moments as the trio pours out every ounce of their energy, leaving nothing behind. The band has gained the reputation for moving a crowd all-night long whether it be a big festival or a tiny watering hole. The core members – – Sean Badders on vocals and bass, Jimmy Russell on vocals and guitar, and Casey Anderson on drums and vocals – – have continued to evolve musically…and audiences continue their enthusiastic calling of "Yeah Bud!" at every show
www.thequickandeasyboys.com
And, we will welcome back:
VOODOO VOLTAGE
Americana, Psychedelic Pop, Art Music, Experimental, & Folk. The result is great sound design & composition, infectious as it is…weird.
Voodoovoltage.bandcamp.com
Opening the show:
Ryan McAlexander
A Parkdale favorite, Ryan will be playing an American solo set